As I mentioned in my Blog Post "Choosing a DNA Testing Company", most DNA test providers make it easy for you to download and transfer your DNA file between family tree websites. Your DNA is your DNA, and there is no sense in paying more than once, right?!
Note that presently you can download your DNA from Ancestry and 23andMe to transfer to other providers, but Ancestry and 23andMe don't allow uploading of your DNA to them from another site. Crigenetics does not allow you to either download your DNA file or upload your file from another site.
MyHeritage, Living DNA (FindMyPast) and FamilyTreeDNA allow you to both download and upload DNA files, for free. Maybe when you get there you will love their tree building and matching capabilities, and buy a subscription. And even if you don't, their other customers are happy because bigger is always better when it comes to DNA matches.
The transfers are free and easy to do, so for me this decision is a "no brainer". Having your DNA in more than one database increases your potential DNA "cousin matches" exponentially. I will counsel you though to read the downloading policies on these providers' sites before you download the file. They do give cautions about security of your data when it comes into your hands and then when it's uploaded elsewhere. This isn't something that bothers me personally, but you may be a more cautious person than I. So read the warnings, understand the ramifications for you, and proceed accordingly.
Rather than trying to figure the procedure out for yourself, I thought I'd help by providing below the step by step instructions on how to do the transfer.
I am using the example of a download from Ancestry, and then an upload of the DNA zip file to MyHeritage. But you can do this with any DNA testjng website that allows the downloading. Just look on the DNA main page at your provider for the instructions.
Download your DNA zip file from Ancestry
Step 1 – Log in to your account

Step 2 – Click the DNA icon in the main menu to take you to your DNA page

Step 3 – Click on Settings in the upper right hand corner
….. this will take you to the DNA Settings Page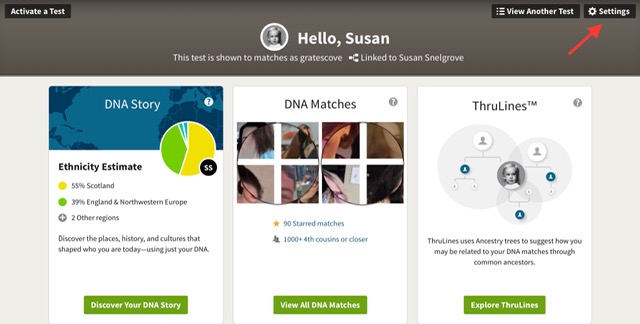 ---
Step 4 – Scroll down to Test Management at the bottom.
In the Actions box, you will see Download DNA Data
Step 5 – Click on the "Download" drop down menu at the right
This will pop up with a box to provide your log in password
Step 6 – You'll need to check the box indicating you agree to the download
Step 7 – Click Confirm
Ancestry will send you an email in order to confirm your request. Once you do, they will send you another email with instructions to download and save the zip file.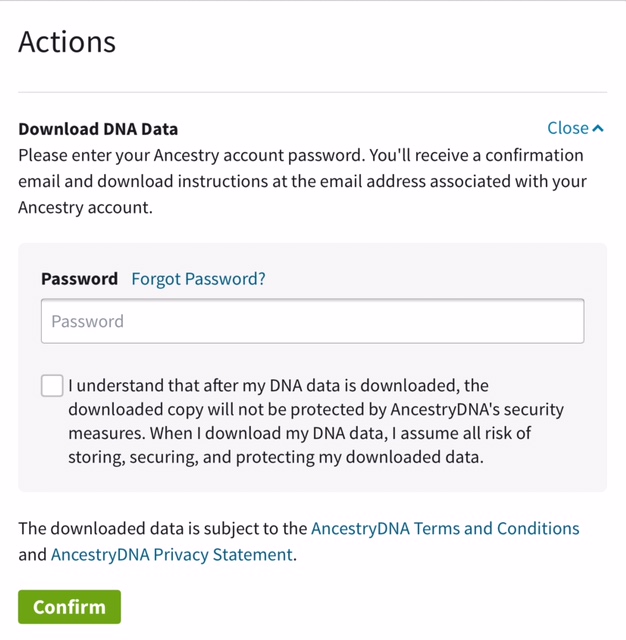 ---
Upload your DNA zip file to MyHeritage
Step 1 – Sign up for a MyHeritage account and log in
Step 2 – Choose the DNA icon on the main menu
Step 3 – From the drop down menu box you then choose "Upload DNA Data"

---
Step 4 – Click on the purple Start button
Step 5 – Choose to upload your DNA, or someone else's (with their permission of course)
Step 6 – Click yes to the acknowledgement questions
Step 7 – Click the purple upload button!
---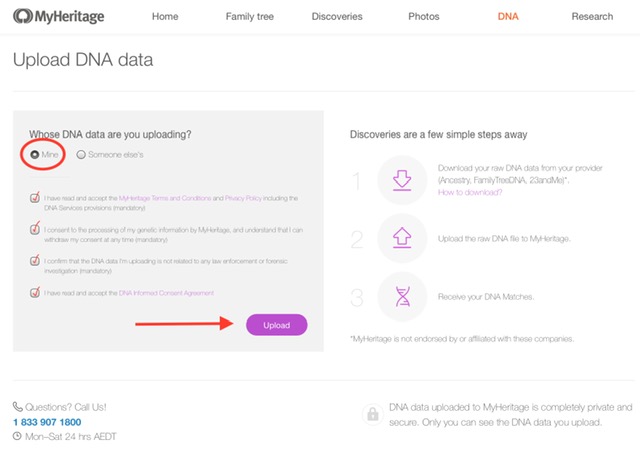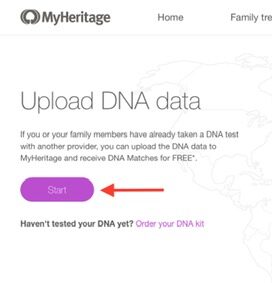 ---
See! I told you it was simple, didn't I?
---
You'll get an on screen message saying that the upload has been completed. It does take a while for their system to add your information and generate your cousin matches. So be patient. You'll get an email telling you when they are ready for viewing. Pretty soon you will have a whole new pile of DNA matches to investigate!
As a reminder, you won't get the other services provided by the genealogy website, such as records searches, unless you buy a subscription. But once you use the site for a while, you may do just that.
In my other Blog post, I mentioned I was very happy when I uploaded my DNA file to MyHeritage. I discovered that many people from the UK and Europe seem to favour this site, so I got a lot of new cousin matches that weren't on the radar at Ancestry. I found the site great to use, and I loved the chromosome browser feature you get with the subscription. So yes, in short order this Geni Junkie paid for the subscription at MyHeritage. I was SOLD!
Now you know how easy it is to download and transfer your DNA file, why stop there? I myself have uploaded mine to both FamilyTreeDNA and to Living DNA (provider for FindMyPast).
And finally, you can upload your DNA file to the monster of all DNA sites, Gedmatch.com. It is a free site where people upload their DNA file from any and all DNA test providers. So all your DNA matches are found in one spot, and you can use Gedmatch's nifty tools to analyze them. I will be writing a Blog Post in the future on the merits of this great website.
If you'd like to try it out, I have placed the links below for you for three popular websites.
Have fun viewing your many new cousin matches … You're welcome! (wink)
Your Geni Junkie friend,
Susan