The DNA Painter website and its great free tools is something I discovered only about a year ago. It has done a lot to help me further my own genetic genealogy research. And I think it will help you too. I am really sorry that I didn't discover it a lot sooner! That's why I wanted to make the DNA Painter tools one of the earliest Blog Posts that I published for my readers.
The DNA Painter website was founded by Jonny Perl in 2017 to do chromosome mapping. Since then, it has been expanded to include many other very useful tools. This site is full of very helpful material on DNA and genetic genealogy. All you need to do is create a free account to get started.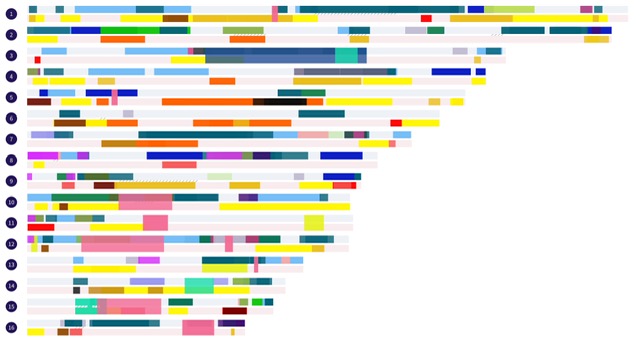 Note that you do not upload your raw DNA data to this site. You copy and paste your DNA chromosome matches into the DNA Painter from other sites where your DNA file is stored. This includes 23andMe, MyHeritage, FamilyTreeDNA, since they all provide your DNA at a chromosomal level.

Ancestry unfortunately does not provide this level of chromosomal detail to you. But if you want to put in a little effort, luckily there's a workaround! You can first download your Ancestry DNA zip file and then upload it to Gedmatch. From there you will have access to your Ancestry DNA matches at a chromosomal level. Learn how to download and transfer your DNA files at my Blog Post "How to Download and Transfer your DNA File".
The DNA Painter Tool website is entirely free to use. But, you can also buy a modestly priced subscription to unlock other useful tools. I have happily used it for free for the past year, and it did everything I needed. But now that I am more familiar with what DNA Painter can do, I want even more! I recently upgraded and will be eagerly trying out the new tools. With the base account you are allowed to map the chromosomes for one person. With the upgrade I can now do the DNA chromosome painting for as many people as I want. That is music to the ears of this Geni Junkie!
Free Tools at DNA Painter
There is so much to teach you about this genetic genealogy tool website, I will break it down into several Blog Posts. I will cover each tool that's available on the site. These are the free ones:
Family Tree Building
Shared CM (Centimorgan) Tool
DNA Painter Chromosome Mapping
What are the Odds? ("WATO")
Paid Tools at DNA Painter
There are other tools available to me now with the upgrade which I haven't used yet. They do look very valuable, so likely these will have to be the subject of future Blogs:
Cluster Auto Painter
Inferred Segment Generator
Common Segment Generator
There are many great articles and videos on the DNA Painter website. DNA can be confusing! So, I highly recommend that you explore these before you jump right into using the site. Even if you don't have a DNA test done yet, watching the videos will give you an idea what you can eventually do with your DNA results.

Here's a link to one of the great articles at the DNA Painter site to help you get started:
Now I will outline for you details of the first two free tools, the Family Tree Builder and the Shared CM Tool.
The Family Tree Tool on DNA Painter
If you've gotten your DNA test done, there's no doubt that you have already built a family tree somewhere, either on a genealogy website or using an off-line program.
I find that the websites where I store my tree don't give me a great view of my overall tree in one place. With DNA Painter's tool family tree tool, you have the ability to import your Gedcom. Or, you can manually input as much of your tree as you'd like. For me, I entered it manually, because my tree is so large and I didn't want up upload everything. If your tree is massive, you need the paid subscription to upload Gedcoms over a certain size.
It was a bit of effort to do it manually, but in the end, the results were worth it. My tree is currently SO large, and goes back SO many generations, it is really easy for me to lose sight of where I'm at. Which branches are well developed, and which peter out? Where would I benefit from putting in some research time to break through some brick walls?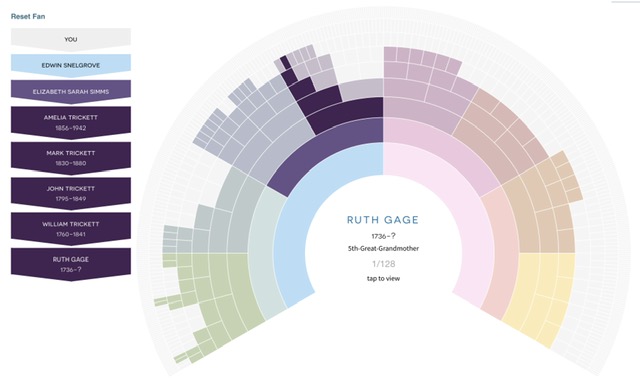 With the Family Tree tool, I can now easily answer those questions by seeing my tree all in one place in a beautiful fan chart. Instantly I can see where my roadblocks are.

And I have to confess I have so many people in my tree now that I totally forget my earliest ancestors and their names! You know, "out of sight, out of mind"! Now I can see all of them in one nice picture as I navigate about the tree. A simple click and it's "oh right, that's Ruth Gage, my 5x great grandmother from Bridport, Dorset. Since I'll see their names more often, it will help me recall them more easily when searching in records. This is all super helpful to me. Maybe that sounds silly, but if you have a huge tree like I do, you'll understand what I mean!
This visual tree also helps point out to you any "pedigree collapse" in your ancestral map. This occurs when you have a lot of local endogamy, or a situation when you have ancestors that are closely related to each other. In my case, my 2x great grandfather Joseph Snelgrove of Grates Cove married my 2x great grandmother Rachel Snelgrove of Lower Island Cove. They were second cousins, because they had common great grandparents. This becomes visually evident in my tree.
There is also a feature that lets you mark which of your ancestors you have backed up with DNA matches to other people. This might help you target a particular line, and you can search for people to do a DNA test for you. Or, if it's a recent generation that has no DNA matches, it might jump out that someone in your tree has questionable parentage. The fan tree format really makes it easy to visualize these things.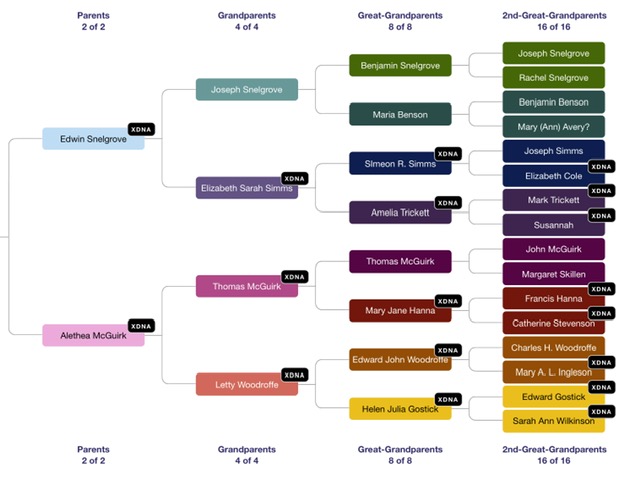 Also, I have Y test results for my brother and my own mtDNA results, plus XDNA as well. You can see your tree in a version that overlays these associations for you. This can be really helpful as well when working out your paternal or maternal genealogy names and lines.
The tree also lets you view a version that focuses on the geographical locations for your ancestors. It also has notes that you can add for each person to aid your future research. And while I spend most of my time in the "fan" view, there is also a text view, which writes out a traditional tiered report showing everyone in your tree and their notes.
And finally, there is a new "Dimensions" feature (Beta) that lets you add your own categories you'd like to track for your ancestors. You might add for instance their age at death, their country of birth, religion, etc. Ancestry (and probably others) has a Tree Tag system that does something similar. This will help you sort and summarize the information for all your ancestors in potentially very useful ways.
Like with other genealogy sites, privacy can be a concern. The default setting for DNA Painter is private. But you also have the option to invite others to see your tree and your DNA match information. This is great way to collaborate with others within a trusted circle.
Since I've been using it, I have found DNA Painter's tree building tool very easy to work with, and I really like the results. It truly is a fantastic tool to support my genealogy research.
Shared CM Tool at DNA Painter
This is definitely another very useful tool. The DNA test providers give you the number of centimorgans of your "cousin" matches, with a range of how you might be related. This tool allows you to visualize it very simply. You merely type in the number of centimorgans of your match, and the tool gives you a nice chart with the potential relationships. I guess I'm a person that understands some concepts easier when I see them, because this view really appeals to me! If you're like me, you will love this tool.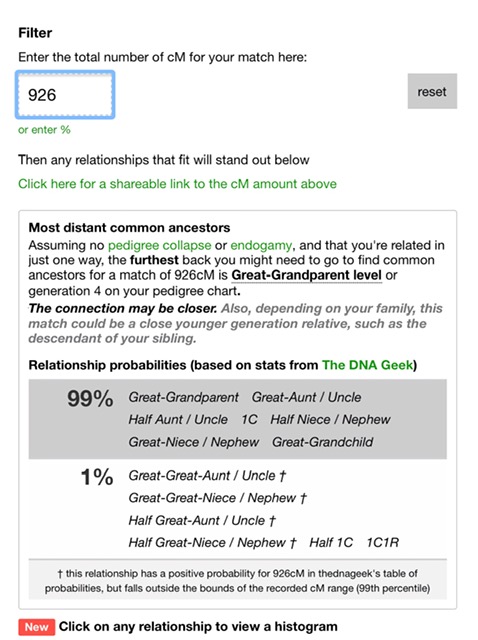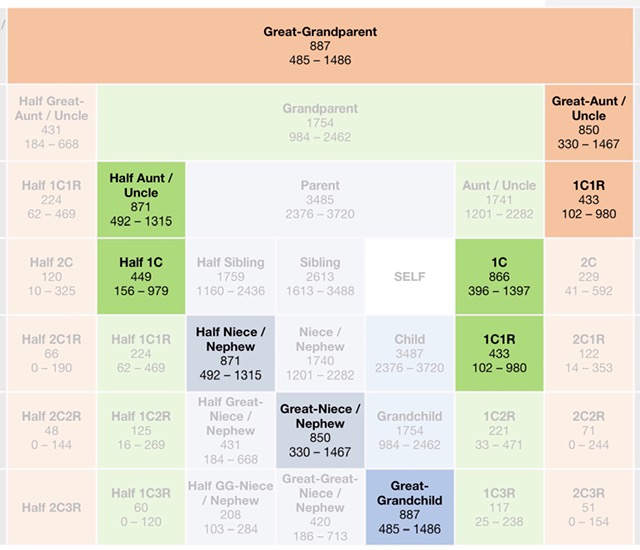 As an example, here are the Shared CM Tool results for 926 centimorgans, my first cousin (BG). The tool does predict first cousin as one of the 99% scenarios. It predicts that we are related no further back than great grandparents, which is also correct because we have common grandparents. And when I input the 622 centimorgans for my cousin's daughter (TG), again it correctly predicts a 67% chance we are first cousins one time removed.

I did in fact use this tool very recently to check out a theory I had for one of my DNA matches in England. I have speculated that her father is an illegitimate child, and that is why her family unexpectedly connects to my Newfoundland tree. Her first cousin on her father's side has recently tested. When I enter his centimorgans match to her, the Shared CM Tool does in fact predict a higher likelihood that they are half first cousins, rather than full first cousins. Thanks for the validation! I rest my case.
So that's a brief review of the Family Tree builder and Shared CM Tool features of the DNA Painter site, and how they can help your genetic genealogy research. Those two tools are just an added bonus to this free site. The "real show" at DNA Painter is the Chromosome Mapping and WATO tools! Stay tuned for Blog posts on these topics in the near future.
If you do go ahead and try out the DNA Painter, I'd love to hear from you what you think. Leave me a comment below. I hope you like it as much as I do!
Your friend in genealogy,
Susan Snelgrove