Five weeks ago I bought a 23andMe DNA test kit. I have been doing genealogy on line for more than two decades and started my DNA research about 8 years ago. I am a power user of the Ancestry site, as well as MyHeritage and FindMyPast. But, I have never used 23andMe, and I thought it only fair that I try their services too. That is the only way I can speak knowledgeably about all the companies for my readers' benefit.
So, I have gotten my 23andMe DNA test done and have been using their site for a few days now. I have learned enough to do a review to share my experience with 23andMe's DNA test.
Ordering the Kit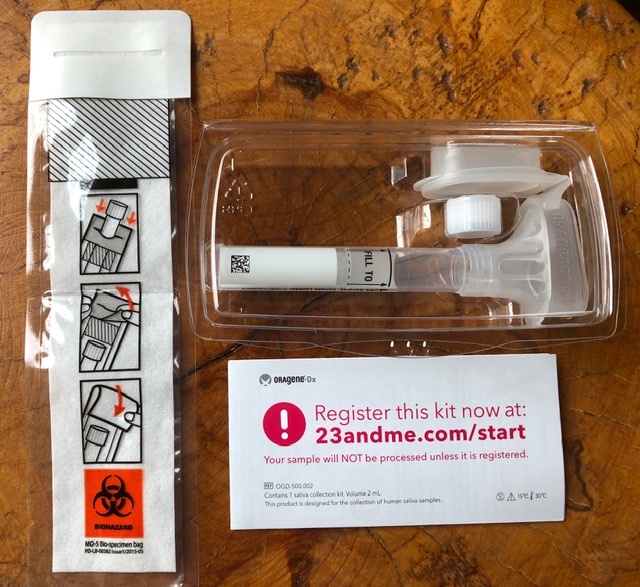 This part of the 23andMe experience was extremely positive. It was very easy to order a kit on line. I got an email late on the same day that it was already shipped! It took only 5 days to get to me in my rural location, during slowdowns with the mail due to Covid-19. Excellent job! I did my test right away and mailed it back the same day. All along the way I got short emails from 23andMe to update me that they had received it and when it was being processed. It was exactly 4 weeks from the moment I placed the order to the moment I got an email saying my results were ready. I have to say that this was an exceptional turnaround time, and I am very impressed. Well done, 23andMe!
The Cost
I ordered the basic kit that includes the health traits, but not the full medical report. With shipping it was CAD $149. In fairness, I wanted to move ahead quickly, so I just ordered it. I know that if I had waited a while, there is always a special price that comes along. I had thought it was going to be less expensive than it was… The unexpected $20 shipping price tacked on at checkout bumped it up. But, it did get here fast, I'll say that!
All in all, the price was more expensive than I would hope, given the competition out there. The price was just on the borderline of me abandoning the idea. For my Canadian readers, if you are interested in purchasing, here's a link through my GeniJunkie account. You will get 10% off your purchase. Full disclosure, I do get an Amazon gift card from them if you buy it via this link. I won't get rich I promise you, but you may as well get a discount, right?
The Product
Heritage Report
Haplogroups
Traits
DNA Matches
The first thing you should understand about 23andMe is that it is just a DNA test. While you do have the ability to build your tree here to help with your DNA matching, it is pretty rudimentary. And there are no data sets of records for you to start researching your tree. If you want to do that, this isn't the place.
What I think sets 23andMe apart from the others is their comprehensive health testing. I know that Ancestry and others are now adding this feature, but I have no idea how good they are at it yet. 23andMe was the first and at least for now, likely the best of the mainstream companies. There is another company called CriGenics that seems to have very comprehensive reports, but I have no experience with them. So if you are taking this test for the health information, and not for genealogy purposes, then 23andMe is probably a good fit for you.

I can't comment knowledgeably on how good their medical reporting is, because I didn't buy this part. I am leery of the test they do for late on-set Alzheimer's. My mother had it, and frankly I don't want to know at this point if I have a genetic predisposition towards it. Now 23andMe have my test sample, I know that I can purchase an upgrade in the future if I decide to get the full medical reports after all.
After working with the 23andMe results for a few days, I am left feeling disappointed from a genealogy research point of view.
One of the prime considerations is the size of their customer base. By way of illustration, I have my DNA at 5 sites now (excluding Gedmatch), and here are my match counts. (Yes, I know that's a lot!)
| | |
| --- | --- |
| Ancestry | 22,572 |
| MyHeritage | 12,597 |
| FamilyTree DNA | 4,107 |
| 23andMe | 1,501 |
| LivingDNA | 371 |
Obviously I have a much better chance of making DNA family connections on Ancestry or MyHeritage. But, it only takes one fantastic match out of those 1,501 to make it all worthwhile. You never know unless you try.
I have broken down the various sections of the 23andMe reports that you receive, and provided my in-depth comments below.
Heritage Report
1. Ancestry Composition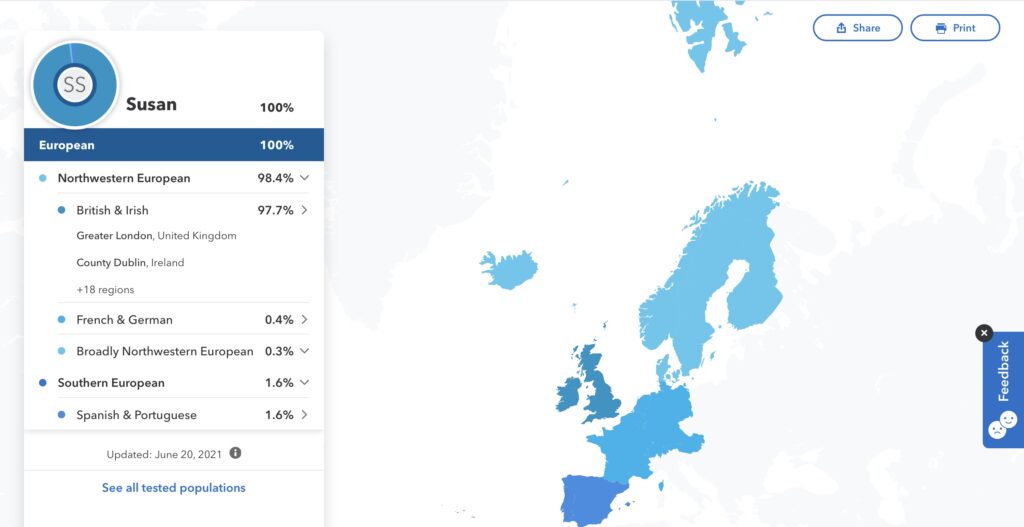 My report says I am 97.7% British & Irish and 1.6% Spanish & Portuguese. That second part would be a surprise! They do break British and Irish into regions, many of which are entirely correct from my own family tree research. "Yes" to Greater London, West Yorkshire and Belfast. But then "No" to 5 others that I have no known relatives. And most surprisingly, I know that I have MANY ancestors from Dorset, Somerset, Hampshire, Wiltshire, because of my ties to Newfoundland. No mention by 23andMe of the West Country. So, their ancestry composition findings are highly questionable in my case.
2. Neanderthal DNA
Apparently scientists have determined there are 7,462 Neanderthal variants, and I only have 195 of them, making me less than 2% Neanderthal. Other than explaining my lack of a unibrow, I am not sure that this was very important to know!

Haplogroups
If you have read my other Blog Post "How Special DNA Tests Can Benefit Your Genealogy", you'll know that I got special tests done with FamilyTree DNA. I got the mtDNA test which traces your matrilineal line and my brother got the Y Chromosome test which traces the patrilineal line. Well, 23andMe gives you this extra information for free!
And their results confirmed what FamilyTreeDNA told me. I am in Haplogroup K1b1a which makes me related to Otzi the Iceman. The scientists trace this particular haplogroup back to a woman who lived 10,000 years ago. It also tells me I match only 1 in 1,100 other 23andMe customers.
They do also report on the Y chromosome, but being a woman, I don't have one. I expect though that my brother's results would be identical to FamilyTreeDNA, had he taken the 23andMe test for me. As he got zero matches there, I doubt he'd have a great chance of finding a Y match at 23andMe either.
While it was nice to have this information as part of their test, I think that if someone wanted to do this special testing they would still go with FamilyTreeDNA. Their customer database for these tests is bigger than 23andMe, so you have a better chance at matching with someone. Plus their testing is much more comprehensive (albeit also more expensive).

Traits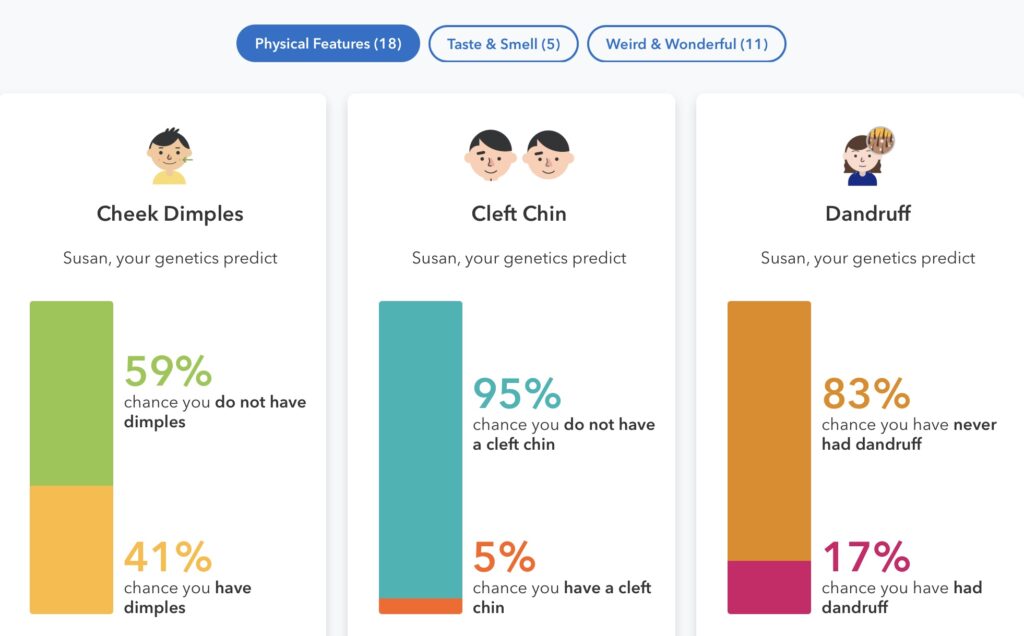 Even though I didn't get the upgraded medical report, 23andMe do report on 34 interesting and fun traits.  They give you a percentage likelihood on 18 physical features, 5 taste & smell abilities and 11 "weird and wonderful" traits.  Things like whether you have a fear of heights, are prone to motion sickness or whether mosquitos like to bite you more than other people (yes, they do!). 

None of these things are key health items, but they are quite fun to go through.  I did find them pretty accurate predictions in my case.  But they were somewhat wrong; I do love cilantro and unfortunately I do have a bunion!
DNA Relatives
For me and my genealogy, it's all about the matching. And like I said at the start, I have exponentially more matches at Ancestry and MyHeritage. But one thing I knew up front I was going to like about 23andMe is that they let you view your matches at a chromosomal level. Ancestry doesn't. And if you have read my Blog, "How to Map your Chromosomes Using the DNA Painter Tool", this is something that is very valuable to my research.
I noted in that Blog that I didn't have many matches for my Woodroffe family at the other sites with my DNA, and I was hopeful 23andMe would be different. And I am happy to say that it was! In fact, all of my closest matches here are on my Woodroffe side of the tree. And now I will be able to happily copy and paste my chromosomal DNA from them into my DNA Painter, furthering my research. So, mission accomplished! I'll be updating my other Blog post shortly with the detailed instructions on how to do that.
For those people who don't care about that advanced use of their DNA, now I'll give you my general impressions of the matching feature at 23andMe.
Tree Capabilities
Instantly, it did highlight some of my closer matches by putting them into a nice tree that it automatically built for me. I liked that I could see that immediately, and it was a cool feature. It picked up a dozen people, laid them out for me, and it was easy to see how we connected. And luckily for me, it was the family I was the most interested in. Bonus!

But that really was as far as it goes.  There is nowhere on the tree it built that brings in my dad's side of the family for instance.  I have to manually add my relatives to this supplied tree, and maybe that is something that will start to develop automatically as I go.  It would indeed be a nice feature to be able to see your DNA matches within your own tree.  But it appears I have to do it manually, once I reach out to other people to confirm. 
I did note some inaccuracies in the provided tree, unfortunately, once i started confirming the matches I did know. For instance, even though I entered my grandmother's brother as the ancestor of one of my matches, the tree still shows the connection to his wife. It seems that it defaults to showing the connection at the woman. Now this doesn't change the association to their child, it still gives an accurate label of second cousin. But you can't take the assignment of who in this tree is my actual DNA connection literally.
I suspect this is the reason I show no people on my father's side of the tree. Looking at the surnames of some of the DNA matches, I think they probably connect to my dad and not my mom, as they are currently placed. So while it's nice to have this tree supplied incorporating my DNA matches, I think there will be quite a bit of work involved in correcting it. That's all fine for the matches that I know….. It certainly will be a problem for those matches that I don't know!
DNA Matches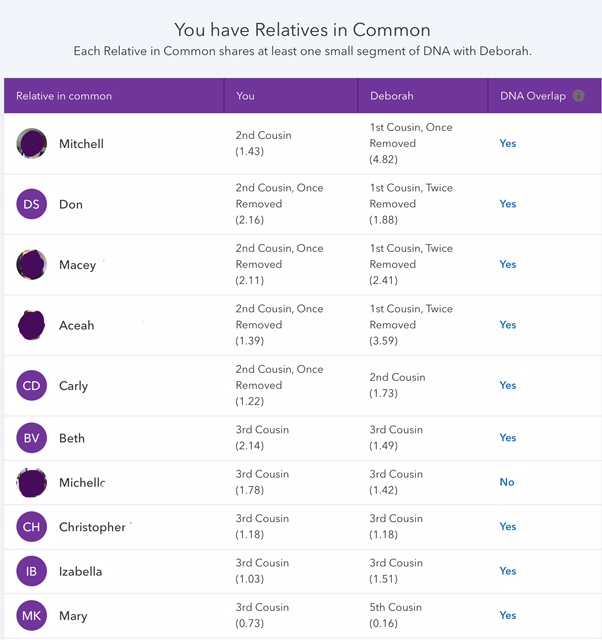 With respect to viewing my matches, it kind of reminded me of what I found at Living DNA (for FindMyPast). I can see their names and % of DNA shared and a predicted relationship, but no tree, except for those dozen people which got incorporated automatically into mine. If I want to know more about them, I have to write to people and ask. Unfortunately, I can't see their tree. Bummer.
I did receive one request already from somebody to make a "connection". I did respond, but haven't gotten anything further. You have the ability to let them see your reports, and I can see their's, but knowing how much Neanderthal or European ancestry they have isn't helpful. I want to know the people in their tree so I can compare to mine and figure out the connection myself.
In your profile you can add some details about your surnames of interest and where they're from. So that helps a tiny bit, if people actually complete this part. Ironically, you are able to say in your profile if you have a tree elsewhere. This person I connected with noted in their profile they have a tree on Ancestry and also their Gedmatch kit numbers. So I was able to go there to research her family a bit. That actually took me away from the 23andMe site. I just found that a bit of a strange business model! But I am glad 23andMe did allow users to provide that information, so at least it made it easier for me.
Shared Matches and Chromosome Mapping
Within the matches it does give you the ability to "Find Relatives in Common" with your match. This is similar to the "shared matches" on Ancestry. It gives you a list of names, and whether there is a DNA overlap between you. If "yes", then you can click and it will take you to the chromosome browser view, showing the full details on a chromosomal level. At the bottom it gives the information in a text table format. This is where you can copy and paste the information into the DNA painter tool at www.dnapainter.com.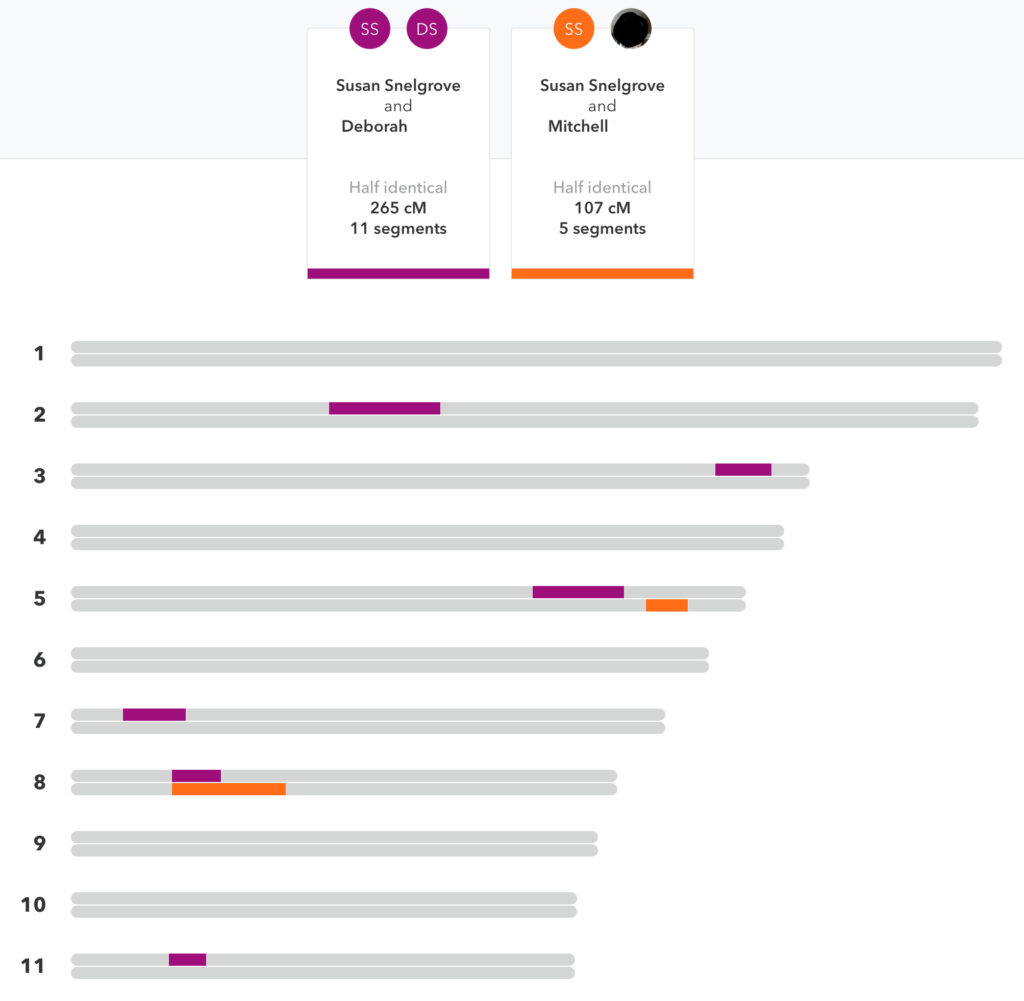 This is super helpful to me, and something that Ancestry doesn't provide. But I'll say that MyHeritage does give you this capability too, and I find their platform to be much more powerful than what 23andMe gives you. FamilyTreeDNA does give the chromosome browser too, but I find this site to have other issues that puts MyHeritage above it.
For instance, on MyHeritage you can easily click to see your shared matches and their chromosome comparison, and you can see their family tree (if they have it set to public). Plus with my subscription, I can instantly click on "research this person" and go off and look for information in their record sets.
When doing genealogy research, I like to spend my time looking for myself, rather than writing a long email to try to explain something that is very difficult to explain, and then hoping they write you back! If I can figure out my connection myself, I do that, and then I reach out to them to talk about it more. I feel that's more productive for me.
Comparing with Other Providers
So in a nutshell, Ancestry doesn't have the chromosome browser, but 23andMe, FamilyTreeDNA and MyHeritage do. But MyHeritage's capabilities are much greater in my opinion. And with MyHeritage I did also find that I got way more matches from users who are located outside of North America. So this too is very helpful to me. Ancestry has the most matches by far of them all, and many other positive features beyond the lack of a chromosome browser.
I think for me the single biggest issue is the relative customer base between the providers, as I have outlined in the table above. Of the five I have my DNA with, 23andMe had the second smallest database of customers for my matches to be compared to.
But in the end, 23andMe did help me, because they had the right matches that I didn't have elsewhere, also with access to the chromosome browser…. My Woodroffe relatives seemed to prefer 23andMe when they got their testing done!
The final thing I'll mention with 23andMe is that you can download your DNA file and upload it to a site like Gedmatch. This does give you accessibility to a lot more matches. But like Ancestry, you can't upload your DNA from another site to 23andMe…. MyHeritage, FamilyTree DNA and FindMyPast (Living DNA) all do give you that flexibility.
In Conclusion
Straight up, if I was going to do only one DNA test in my life, it wouldn't be with 23andMe. If I really wanted the health reporting, that would be a different situation altogether. If that were the case, it would be the one that I would go with.
While the traits information was certainly fun, my personal goal with using DNA is for genetic genealogy research. And frankly, 23andMe won't help me that much when compared to other companies.
23andMe have way fewer clients for DNA matching, and they don't give you a great tree builder or the ability to do genealogy research. You have to go elsewhere, like the free FamilySearch site, or other paid sites like MyHeritage, FindMyPast or Ancestry. Once you've gathered the information, you'd have to bring it back to manually build your tree at 23andMe. And you can't attach the record sources, basically you just fill in names, dates and places.
Yes, 23andMe does give me the chromosome brower that I cherish, but so does MyHeritage, who gives you all the other stuff I cherish too. And FamilyTreeDNA does as well, although I would rank them behind MyHeritage for other reasons.
The service was indeed excellent, so 23andMe gets top marks for that. But honestly I did find the same good service with the other companies I have tested with in the past. I found the pricing to be fairly expensive, but in fairness I could have gotten it more cheaply had I waited for a sale. Even so, I think 23andMe is still more expensive than Ancestry for instance.
I did get something worthwhile out of the experience in the end, because I will be able to fill in some holes on a particular branch of my family. I haven't worked a lot yet with my matches, and who knows, there may be a very important gem in there waiting for me to find it. But it won't be quite so easy to analyze frankly to make the connections, because I have to write to everybody to try and figure it out.
So in my opinion, if you want to get a DNA health test done, go with 23andMe. You'll get the secondary benefit of DNA matching, if you turn that feature on. You'll just have to work harder at researching and building your tree within their platform.
But if you want to do your DNA for genealogy purposes only, you would be better off with Ancestry or MyHeritage. As I always say though, the more the merrier in genealogy. So if you don't mind making an investment into this hobby that we all enjoy so much, do a test with 23andMe too. You just never know where that golden nugget might lie.
Your Geni Junkie friend,
Susan Snelgrove